So, graduation is impending. I'm about to begin my last semester ever of undergraduate work. Lately I've been thinking about what the graduated version of me is going to look like, specifically about the professional wardrobe I'd like to take on when I can no longer claim to be a poor student. So I thought I'd share.
I really want a briefcase. My dad always has a Filson canvas and
What can I say, I have a weakness for wool plaid. And, it is just big enough to fit my ipad, planner, wallet, water bottle, lotion, etc.
Next I've been thinking about the silhouette I'd like, when it comes to pants. At the moment, I don't have any dress pants that fit, so I definitely need some new ones. I'm thinking higher rise in the waist, for a more classic look, slim but not tight through the leg, and hem falling just at the ankle. Sort of like the Martin fit skinny pants from Banana Republic: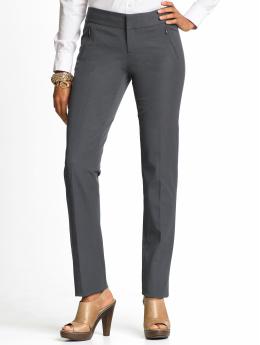 I'd like them in black, gray, and brown/tan for ultimate versatility.
Next are tops, of course. I'm thinking combinations of pretty tops, blazers, cardigans, and belts will allow for the most mix-and-match options. For tops, one black, one white/off white, one beige, and one in a fun color. Here are some possibilities:
And then I'm thinking ballet flats. Like these that are on sale from Lands' End.
Okay, that got far too long, and now the font is being weird. Anyway, point is, I'm excited to graduate, and want to do some shopping.